A senior official of al-Qaeda's North Africa wing Bah ag Moussa, has been killed by French forces during an operation in northeastern Mali on Friday.
Armed Forces Minister Florence Parly disclosed the above in a tweet: "I congratulate our soldiers for this success which deprives Iyad Ag Ghaly of one of his main assistants. Their commitment, their courage and their selflessness make us strong and proud."
Les forces armées françaises ont neutralisé un haut cadre d'Al-Qaïda, ce 10 novembre au Mali. Je félicite nos militaires pour ce succès qui prive Iyad Ag Ghali d'un de ses principaux adjoints. Leur engagement, leur courage et leur abnégation nous rendent forts et fiers. pic.twitter.com/dx6JRgw3HJ

— Florence Parly (@florence_parly) November 13, 2020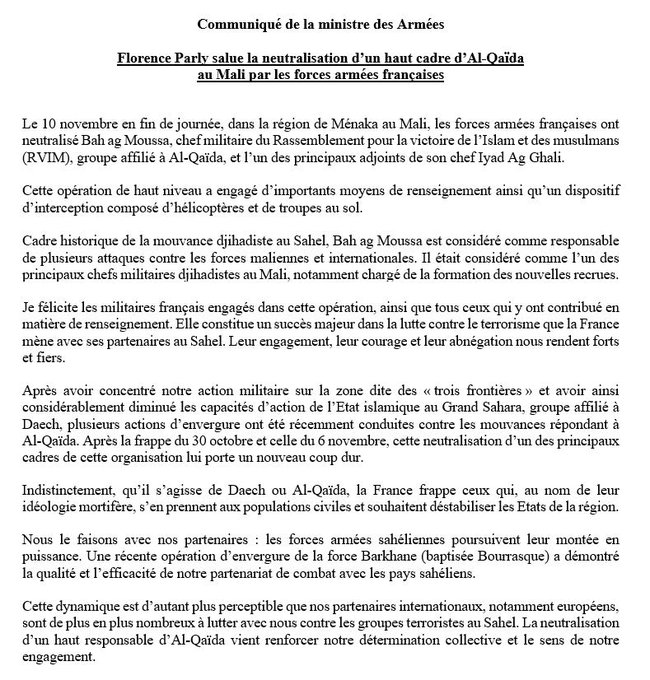 The former Malian army colonel, also known as Bamoussa Diarra, was a right-hand man of Iyad Ag Ghali, the leader of Mali's most prominent jihadi group, Jama'at Nusrat al-Islam wal-Muslimin (JNIM), which has repeatedly attacked soldiers and civilians in Mali and neighbouring Burkina Faso.

"This is a major success in the fight against terrorism," Parly added.

Former colonial power France has more than 5,100 personnel spread across the region with a large portion in Mali operating against rising militancy.
BLOG COMMENTS POWERED BY DISQUS